SUPERFRY 4.0
THE EVOLUTION
High-technology fryer for maximum efficiency
The revolutionary Superfry 4.0, thanks to the Cookingcore operating software and its powerful connectivity, through an integrated Wi-Fi connection, allows to monitor and program its operation even remotely ensuring considerable economic savings.
Automatic Professiona Fryer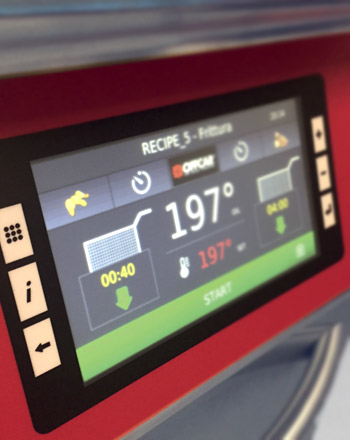 Intuitive touch control 7" touchscreen display with color graphics interface and interactive icons.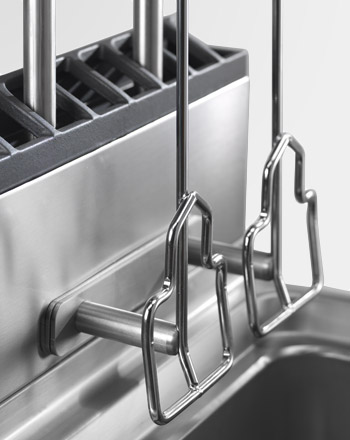 AISI 304 stainless steel body
AISI 304 stainless steel supports completely removable and washable in dishwasher.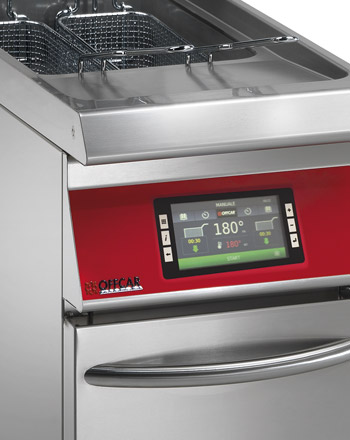 Up to 20 programs / recipes configurable and customizables according to time-temperature, directly connected to the automatic lift system.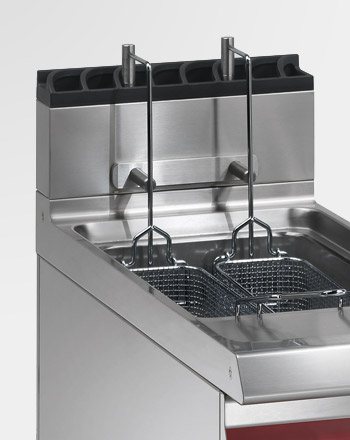 Automatic and independent lifters of the baskets according to recipes. Supports are completely removable and washable.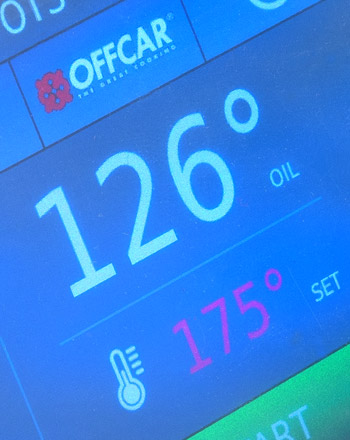 The high efficiency heating system and the ECO mode guarantee the ideal yield ratio between consumed energy and cooked product with significant economic savings.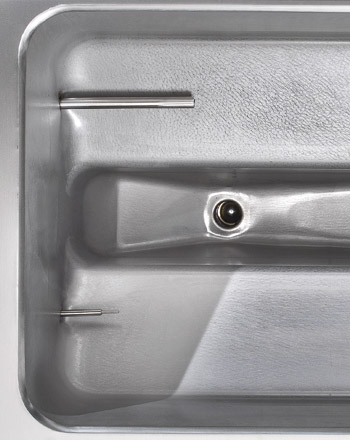 Express Filtration System
Regular filtering is the key to extend oil life and ensure a high-quality fried product.
Gas Fryer and Electric Fryer

Combustion system "PREMIX" with automatic modulation of the power during start-up and reaching the set-point temperature for maximum efficiency with lower consumption and lower emissions.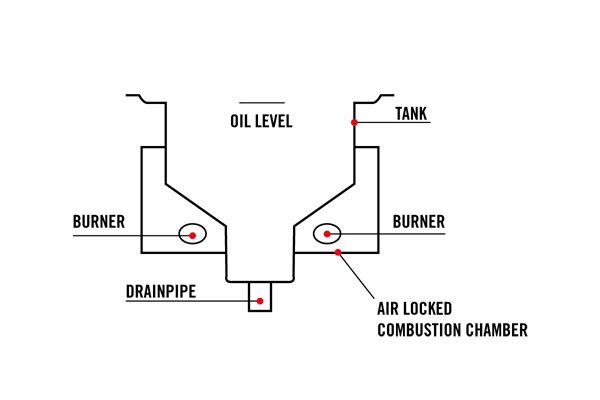 High power heating elements inside the tank (yield 100%) can be 90 ° rotated by external leverage in order to ensure easy cleaning.

MEETING
function avoiding heat stress.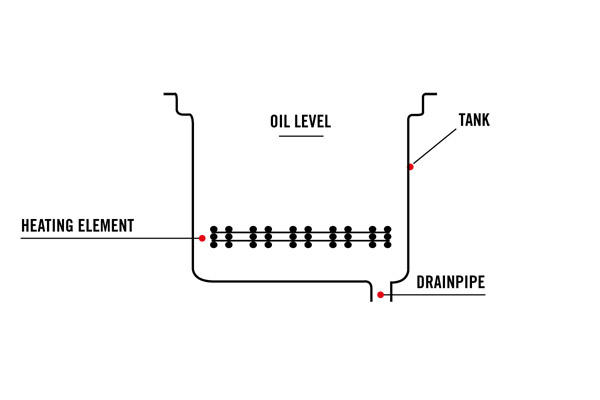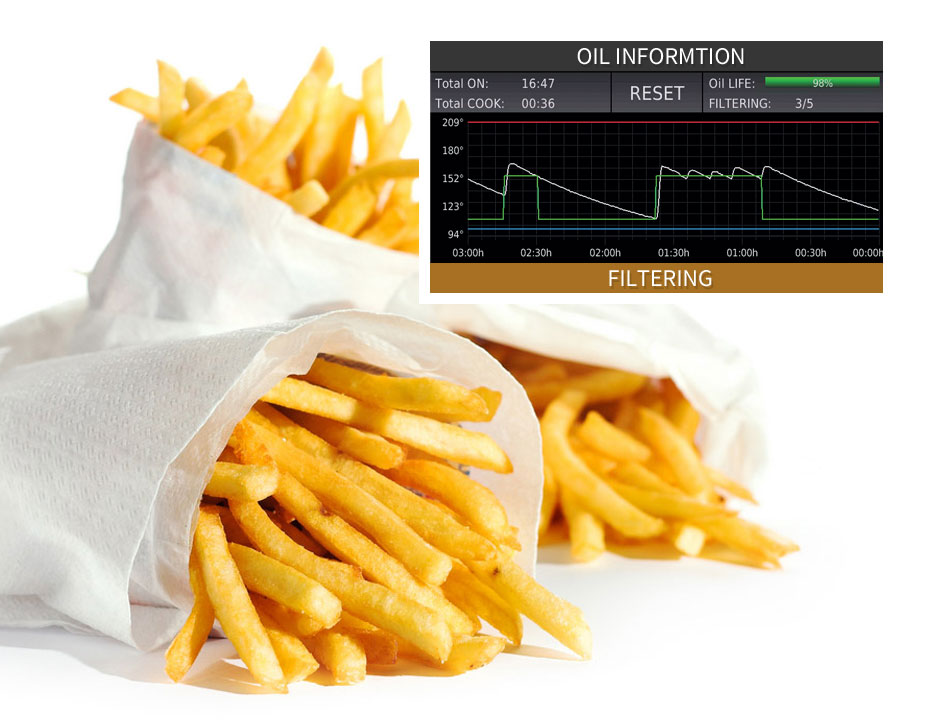 A smarter approach to oil management
Superfry 4.0 It displaies the oil residual life with indication of the worked hours, the reached temperature and the number of completed filtrations already performed. (EFS Express filtration system)
FAST: Filtration less than 4 minutes and return to set point temperature
-
EASY: Start by selecting the program from the control panel
-
CLEAN: Operation completely inside the machine without any leakage
-
INTELLIGENT: Indication and history of the filtrations already performed
-
SAFE: No oil handling
Regular filtering is the key to extend oil life and ensure a high-quality fried product.
Located inside the fryer and equipped with removable and washable filter.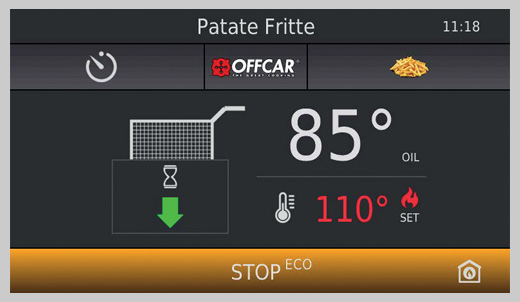 High production per hour, 45kg of french fryes instead of 22 of a standard electronic fryer, this means 8kg production extra every hour.
STANDARD MACHINE
SUPERFRY 2.0
INTELLIGENT GAS HEATING SYSTEM
PROVIDE CONSIDERABLE REDUCTIONS OF ENERGY COSTS
(considering 8 working hours per day, for 365 days)
4500 M3/YEAR = 4500€
3500 M3/YEAR = 3500€
INTEGRATED OIL FILTER IMPROVES
OIL QUALITY AND CONSUMPTION
2640LT/ YEAR = 3960 €
2250 LT/YEAR = 3375€
FACILITATE AND SAFETY CLEANING AND
USER FRIENDLY INTERFACE REDUCE
SET-UP TIMING
20 MIN/DAY = 2774 €
10 MIN/DAY = 1387 €
ANNUAL COST
€ 11.234
€ 8.262

-26,5%
SAVING PER YEAR € 2.972
Integrated Connectivity System
Means to monitor full Superfry operations, even remotely, via the Cloud. Back up of settings, content sharing and get HACCP data.
USB port allows to download historical data, error log and test results for easy service and maintenance.